The public and everyone is invited to attend!  A lot of fun is free, but some events require tickets.  Tickets can be purchased on site. 
Bring the whole family and come and celebrate PIONEER DAY 2012!  
Pee Wee Barrel Races: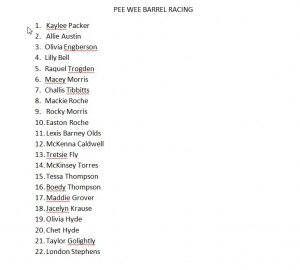 This year's ACTIVITIES will be second to none with nonstop action and fun!  
Bounce toys
Inflatable water slide
Ring toss
Dunking booth
Petting Zoo
Games
Pioneer Doll Making
Mini train
Hand cart pull
Kiddie horse back rides
Face painting
Here is the schedule of Arena Activities: 
12:00 – 12:15 Flag ceremony 
12:15 – 1:30 MUTTON BUSTING 
3:00 – 3:45 Indian Horse Racing 
3:45 – 4:30 Chief's Race  
Come watch the kids ride the sheep.  Thrill to the exciting bare-back Indian Horse relays.  Guaranteed fun for all!  
Mutton Busting registration is free, but required.
REGISTRATION CLOSES JULY 18, 2012, 6:00pm 
Download or pickup registration forms, and fill out and leave them, at Vickers or McKees stores.
REGISTER EARLY TO MAKE SURE YOUR CHILD RIDES!!!!! 
 
Kids can ride while families pull authentic handcarts, take a gentle horse ride, or make a pioneer doll and feel a little of what the pioneers felt over a century ago.  Watch the kids do some mutton busting or have their faces painted!  
 
Fun will start at 11:30 a.m. and go to 4:30 p.m. so come and enjoy! 
Most activities and events are FREE to the public!  
!!FOOD !!
A variety of FOOD will be available at the celebration.
FREE HOT DOGS for kids 12 and under!
FREE WATERMELON ! 
Come and enjoy a Pioneer Day treat!   
Need Help:
Arena Events Casey Price,  317-8839,  eleventhhour5@hotmail.com
Mutton Busting  Monte Smith, 232-4503,  monsmi@msn.com
Activities Vermon Esplin, 238-5836,  vesplin@aol.com
Food Michael Ludwig, 223-1881,  michaelludwig1976@yahoo.com