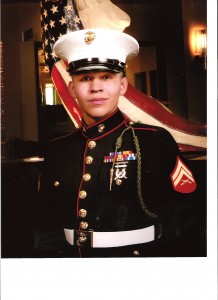 The 2012 Pioneer Day Celebration Committee is proud to announce that  Marine Cpl. Phillip Baldwin of Fort Hall has accepted the honor to serve  as Grand Marshall on Saturday July 21, 2012 for our celebration and parade in Pocatello, Idaho. Our theme this year will be "Faith in Our Country".
Marine Cpl. Phillip Baldwin of Fort Hall, was 
wounded in June of 2011 while on patrol in Afghanistan. He stepped on an 
improvised explosive device and lost his right leg up to his hip and his  left leg above the knee.
His sacrifice is representative of many others who have given much in the cause of freedom at home and around the world.
The parade will begin at 10 AM Saturday morning July 21, 2012 at the  Holt Arena and end at the railroad parking lot in Old Town Pocatello at  approximately 11:30 AM.